Record players with built-in speakers are a compact, convenient way to enjoy your record collection. Whether you have been a fan of vinyl for...
Many instruments are capable of producing tones over a wide range of pitches. However, there are a few instruments that produce tones that are...
Whether your kid came to you asking to play violin, you want your child to start playing the violin, or you want to buy...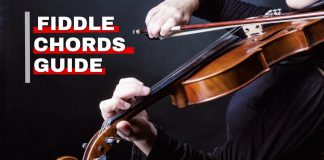 If you are learning how to play the fiddle, you'll come across fiddle chords but what are they and how do you...
Dubbed as one of the most expressive instruments, the violin creates a lot of stories from its tone alone. But there are more stories...