The diverse music and rich history of the 150-year Baroque period wouldn't be the same without these skilled Baroque composers. Some names in our 12 most famous baroque music composers may even be familiar to you.
Today, we're diving into their lives, famous works, and how they've become household names in music.
1. Johann Sebastian Bach (1685-1750)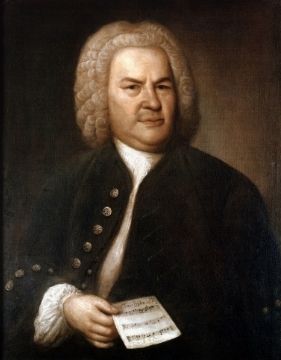 Born into a large and renowned German family of musicians, Johann Sebastian Bach was a musical prodigy, admired for his virtuosity and skill. But Bach was a working musician during his lifetime. While in Holland performing the St. Matthew Passion, Felix Mendelssohn introduced countless additional audiences to Bach.
Bach wrote his music using various musical instruments, including organ, harpsichord, choirs, orchestras, and concertos with multiple instrument combinations. Bach is not only one of the greatest Baroque period composers but also the most excellent musician in history.
2. George Frideric Handel (1685-1759)
Handel was a musical prodigy. As a matter of fact, he accomplished and published his first opera in his 18th year.
Handel is also one of the best-known baroque composers. Millions love his joyful works, including anthems, operas, oratorios, and organ concertos. Two of Handel's most famous works are "Hallelujah chorus" on Christmas (the Messiah oratorio) and the "Music for Royal Fireworks" on Guy Fawkes Night.
3. Antonio Vivaldi (1678-1741)
A review of great baroque composers is incomplete without the mention of Antonio Vivaldi.
The violin concertos of Antonio Vivaldi are among the most popular pieces in Baroque music. But, his "The Four Seasons" is his best-known work. Each of their three movements describes a season.
Vivaldi also published sonnets to accompany each musical "season." This was an innovative foretaste of things to come from baroque music composers in the Romantic period.
Vivaldi was called "il Prete Rosso" or The Red Priest because of his red hair. After he was ordained as a priest, Vivaldi no longer wished to celebrate the Catholic mass. He cited physical ailments, such as chest tightness. Biographers think Vivaldi might have faked illness to avoid confrontation with the diocese.
A prolific composer, Vivaldi wrote 470 musical works, including sacred chorales and operas.
4. Henry Purcell (1659-1695)
Purcell, one of the most influential Baroque composers, is also one of the greatest British composers of all time. Unfortunately, even though Purcell died at the age of 36, biographers note his long-lasting influence on music into the early 20th century.
The court employed Purcell for most of his life. Purcell's "Dido and Aeneas" is considered one of the most significant theatrical works of the Baroque era.
5. Georg Phillip Telemann (1681-1767)
Georg Phillip Telemann, another star in our list of baroque composers, wrote more than 3,000 works in his lifetime. Telemann's compositions combine Polish, German, Italian, and French styles in many genres, such as sacred, operas, and orchestral suites.
Telemann's family didn't want him to work as a musician in his autobiography ("Georg Phillip Telemann," translated by Gabrielle Marcq, Symétrie Publishers, 2013). He was entirely self-taught and learned to play instruments and compose music without the benefits of formal education.
One of Telemann's most famous works is "The Water Music Overture in C Major," which is often played at weddings.
6. Arcangelo Corelli (1653–1713)
Music of the Baroque period marks the start of the "Common Practice Era" (1600-1650) that remained until the early 20th century. Compared to the Medieval to Renaissance eras' "mode-based" compositions, baroque composers relied on standard cadences in tonal key centers.
Arcangelo Corelli's works influenced the Common Practice Era. His performance style also continues to influence instrumental techniques.
He was a great violin virtuous of the day and composed sonatas and concertos. Some of Corelli's works include "Adagio" (Violin Sonata in C Major Op. 5 No. 3) and "Sarabande (Violin Sonata in D Minor Op. 5 No. 7).
7. Francesca Caccini (1587-1640)
Francesca Caccini was born into the world of Italian Baroque music. Her father, Giulio Caccini, was a master of the Renaissance era. Her mother, (Lucia Gagnolanti), her stepmother (Margherita della Scalla), and her sister (Settimia Caccini) were famous singers.
Caccini sometimes worked with her relatives at the court, performing her father's "Il rapimento di Cefala." She worked as a musician for the famous Medici family in Florence, performing wedding music for Maria de' Medici and a French king (Henri IV).
Caccini was a renowned singer, teacher, poet, and lutenist of her day. She is also the first woman to write an opera.
Caccini's "La liberazione di Ruggiero dall'isola d'Alcina," a comedy, is her best work.
8. Domenico Scarlatti (1685–1757)
Three of the world's most celebrated baroque composers (Scarlatti, Bach, and Handel) were born in 1685.
Scarlatti, born in Naples, was the child of famous composer Alessandro Scarlatti. He spent much of his career in service to the royal families of Spain and Portugal. Scarlatti wrote 555 sonatas for the organ, clavichord, fortepiano, and harpsichord.
Scarlatti's Sonatas I – XXX remain popular with Baroque music lovers to this day.
9. Tomaso Albinoni (1671-1751)
Tomaso Albinoni of Venice is the contemporary of the better known Baroque composer, Vivaldi.
""Oboe Concerto" and "Adagio in G Minor" are among his famous works.
One of Albinoni's biographers, Michael Talbot ("Tomaso Albinoni: The Venetian Composer and His World," Clarendon Press, 1990), believes that the Composer's vocal music is worthy of more appreciation.
Unlike many of his baroque composer peers, Albinoni did not have strong connections to the church. He is also the first Italian Baroque composer to use the solo oboe in concerti (Op. 7).
His works "12 Concerti a cinque Op. 9," "Adagio for Violin and Cello Duet," and "Adagio 'prière' for Solo Violin" remain popular with contemporary audiences.
Albinoni's instrumental pieces drew attention from Johann Sebastian Bach: "Fugue in A major, on a theme by Tomaso Albinoni" and "Fugue in B minor on a theme by Tomaso Albinoni."
Unfortunately, some of Albinoni's works were lost when the Dresden State Library was destroyed in World War II. For this reason, biographers know little of Albinoni's post-1720 work and life.
Discover Albinoni's works "Adagio for Violin and Cello Duet," "Adagio in G Minor for Violin and Piano," and "Adagio 'prière' for Solo Violin" remain popular with music lovers today.
10. Giovanni Battista Pergolesi (1710-1736)
Giovanni Battista Pergolesi, born Giovanni Battista Draghi, was a composer, organist, and violinist. Pergolesi was a nickname, indicating his ancestors' birthplace.
He was a student of Francesco Santi, Francesco Feo, and others. As a famous composer of Italian Baroque comic opera (, he wrote the enduring "Stabat Mater" (1736) in honor of the Virgin Mary and "La Serva Patrona" (The Maid Turned Mistress, 1733), a comic opera (buffa).
Patrons, including Domenico Marzio Caraga, Duke of Maddaloni, and Ferdinando Colonna, commissioned many of his works.
Unfortunately, Pergolesi died from tuberculosis at the young age of 26 years old. Contemporary Baroque period composers, like Johann Sebastian Bach, reorchestrated and rearranged some of Pergolesis's work in the "Tilge, Höchster, meine Sünden" (Root out my sins, Highest one) cantata.
11. Claudio Monteverdi (1567–1643)
Claudio Monteverdi is another famous composer of the baroque period. His career started at the young age of 15 years old. But, he is regarded as a transitional composer because his life and career spanned both Renaissance and Baroque periods.
Claudio Monteverdi wrote the L'Orfeo, the earliest opera still beloved in today's world. It is about the ancient Greek legend, Orpheus.
Its score includes more than 40 instruments. Different instrumental groups represent characters and scenes in the opera. In the style of the late Renaissance, L'Orfeo uses polyphones to weave many individual parts of the story together.
Monteverdi is also known for his "Vespers," a religious composition blending orchestra, choir, soloists, and opera.
12. Jean-Philippe Rameau (1683-1764)
Jean-Philippe Rameau is the most famous Baroque composer from France. He is recognized for his operas and theatrical works, as well as a music theorist, violinist, harpsichordist, and organist.
He is attributed to the use of "baroque" in defining the musical period.
Rameau followed in his father's footsteps. Jean, his father, was an expert organist. Other members of the Rameau family were professional musicians. Like other composers of the time, he studied music in Italy. The Italian cantata inspires his love of vocal music.
He published the "Treatise on Harmony" (1722) and "new System of Music Theory" (1726), which endeared him to the French salon intellectual culture.
In 1733, at age 50, Rameau produced the opera "Hippolyte et Aricie." The opera revolutionized tragic opera in France. In the following years, he produced "Castor et Pollux" (1737) and "Les Indes Galantes."
12 years later, the Frech court recognized Rameau's works and was given the title, Composer of the King's Chamber and a royal pension. Unlike many musicians in the baroque period, Rameau is a wealthy man.
Conclusion
The music of the baroque period is ageless and timeless. Does Vivaldi seem like a modern composer to you? Is the comedy of the baroque era charming? Take a moment to explore the works of famous baroque composers who aren't yet familiar to you. Find new favorites.
Share your insights with others you love.